A Team Built on
Expertise & Experience
At Albemarle Eye Center, we take pride in our team and their experience in delivering the best patient experience possible.
Our team consists of talented optometrists and ophthalmologists with years of proven experience and a track record of success. Read more about their stories and learn what makes the Albemarle Eye Center experience special.
Book an appointment today to see how we can support you and your vision.
Jitendra Swarup, M.D., LASIK, Cataract & Lens Replacement Surgery
Dr. Jitendra Swarup attended medical school in Washington, D.C., at the prestigious Howard University. Dr. Swarup's residency was done at Sinai Hospital in Detroit, MI, where he served as Chief Resident. During his time at Sinai Hospital, Dr. Swarup was involved in the initial trials and FDA approval for the Excimer Laser in 1993 and has been performing LASIK surgery since its introduction in 1996.
Dr. Jitendra Swarup is one of the world's leading cataract surgeons and has authored and co-authored several papers on the subject. Dr. Swarup has also given lectures on cataract surgery, intraocular lens implantation, and the management of surgical complications. Dr. Swarup is dedicated to providing the best possible care to his patients and believes in staying current on the latest technology to accomplish this. To do this, Dr. Swarup has continued to be a principal investigator in several cataract and intraocular lens research studies.
Dr. Jitendra Swarup specializes in laser, no-stitch, advanced technology cataract surgery, as well as glaucoma surgery, laser surgery for diabetic eye disease, and oculoplastic surgery in both therapeutic and cosmetic cases.
Dr. Swarup is the only area physician offering:
Advanced technology
Multi-focal, and astigmatism-correcting, intraocular lens implants
Dr. Jitendra Swarup is a diplomat of the American Board of Ophthalmology and is a respected member of medical and ophthalmic societies, including The American Academy of Ophthalmology. Dr. Swarup enjoys boating, traveling, and relaxing on the beaches of the Outer Banks of North Carolina in his free time.
Locations served: Elizabeth City, Kinston, Kitty Hawk & Washington
Peter V. Mitrev, M.D., Cataract & Lens Replacement Surgery
Dr. Peter V. Mitrev attended the University of Colorado in 1984, where he received his Bachelor's degree and continued his medical training in Colorado, receiving his medical degree in 1989. Following an internship in internal medicine at the University of Colorado Health Sciences Center, Dr. Mitrev served in the United States Air Force as a flight surgeon in England during the first Gulf War. After receiving his honorable discharge from military service, Dr. Mitrev returned to the United States. Upon his return, Dr. Mitrev completed his Ophthalmology residency at the University of Kansas Medical Center, where he served as Chief Resident.
Dr. Mitrev's next stop was completing a post-graduate year of study as a glaucoma clinical fellow at Tuft's University in Massachusetts in 1999. In Virginia, Dr. Mitrev served as the clinical research director for the Thomas R. Lee Center of Ocular Pharmacology and Assistant Professor of Ophthalmology at the Eastern Virginia Medical School. Since then, Dr. Mitrev has become an experienced glaucoma specialist, treating patients in various stages of the disease recover their vision.
Dr. Mitrev has an extensive background in instructing many Ophthalmology resident surgeons in glaucoma and cataract surgery and giving numerous lectures to medical students. Over the past 15 years, Dr. Mitrev has also volunteered his services at the Chesapeake Care Free Clinic to treat ophthalmic diseases. He has co-authored several articles on glaucoma and cataract surgery and presented scientific papers on original research at national ophthalmology meetings. Dr. Mitrev holds a patent for a unique glaucoma surgical device.
Dr. Mitrev enjoys gardening, skiing, surfing, bike riding, and numerous outdoor activities in his free time.
Location served: Elizabeth City
Eric M. Burns, O.D., Optometric Physician
Dr. Eric M. Burns graduated with a Bachelor's degree in biochemistry from Marietta College in Marietta, Ohio. Following his graduation, Dr. Burns attended the Pennsylvania College of Optometry, where he graduated Cum Laude with a Bachelor of Science in Visual Science and Doctorate of Optometry, receiving the Clinical Excellence Award in Primary Care.
Dr. Burns remains active with the Albemarle Regional Health Board, where he participates in community eye screenings and eye care. Dr. Burns specializes in comprehensive eye exams, contact lens fitting and dispensing, and diagnosing and treating eye diseases such as glaucoma and diabetes. Dr. Burns has practiced optometry at Albemarle Eye Center since 2003.
Dr. Burns, his wife, Jovan, and 6 children enjoy their time with family, church, and traveling.
Location served: Elizabeth City
Katie Hickman, O.D., Optometric Physician
Dr. Katie C. Hickman attended the University of North Carolina at Wilmington and received her Bachelor of Science Degree in biology. Following her graduation from the University of Alabama with honors, she received her Doctorate of Optometry degree from the Birmingham School of Optometry.
Dr. Hickman then returned to her native state of North Carolina where currently practices full scope optometry. Some of her specialties include:
Pediatric eye care
Primary eye care
Medical treatment of eye disease
Pre- and post-operative eye care management
Dr. Hickman is a member of several well-known professional organizations, including the American Optometric Association, the North Carolina State Optometric Society, and the Washington Lions Club.
Dr. Hickman currently resides in Bath, North Carolina, with her husband, Luke, and daughter, Peyton. In her free time, Dr. Hickman enjoys boating, water sports, and all the fantastic outdoor activities that the Inner Banks of North Carolina have to offer.
Location served: Kinston
Tim Klugh, O.D., Optometric Physician
Dr. Tim Klugh is originally from Pittsburgh, Pennsylvania, and attended Wake Forest University on a full athletic football scholarship. He received a Bachelor of Science Degree in Biology. He later received his Doctor of Optometry Degree from the Pennsylvania College of Optometry. Dr. Klugh is always accepting new patients and treats and manages all types of eye diseases. He has a passion for fitting contacts and glasses to challenging patients.
Dr. Klugh has been practicing optometry in North Carolina for 20 years and serves on the Board of Trustees of Washington, N.C., Evening Rotary Club, where he was a past president. Dr. Klugh is also a member of the Coastal District Optometric Society, where he was president for 8 years. Dr. Klugh currently has a seat on the Board of Directors for the Washington Blind Center, which helps the visually impaired locally.
When he's not helping his patients, Dr. Klugh enjoys working out, fishing, and watching sports. He and his wife, Kandyce, have 2 children, Jordan and Taylor.
Location served: Washington
Sean W. Smolenyak, O.D., Optometric Physician
Dr. Sean W. Smolenyak was born and raised in Virginia, in the little town of Great Falls. He graduated from the University of Virginia with a Bachelor of Arts in history in 1997 and followed that up with a Bachelor of visual science in 1998. Dr. Smolenyak then got his Doctorate of Optometry from The Pennsylvania College of Optometry in 2001.
Dr. Smolenyak was nearsighted since kindergarten, and his early visits to the eye doctor's office fueled his passion for helping others maximize their vision and protect their eye health. Dr. Smolenyak started his career at Albemarle Eye Center in 2001 but was recruited to join The Kelly Eye Center in Raleigh in 2005. During his 16-year tenure in Raleigh, he had the opportunity to utilize some of the newest technologies and treatments for a range of ocular diseases. Dr. Smolenyak has since returned to the Albemarle Eye Center family and is excited to get started.
Dr. Smolenyak specializes in the medical management of eye diseases, including:
Ocular emergencies
Ocular surface disease
Macular degeneration
Diabetic eye disease
Glaucoma
Dr. Smolenyak also has extensive experience in the pre and post-operative management of cataract surgery and has helped manage over 40,000 patients.
Dr. Smolenyak is a member of the North Carolina Optometric Society and The American Optometric Association, serving in numerous leadership positions within the state society. Dr. Smolenyak researches new technologies and treatments for his patients to ensure they have access to the most current treatments. Dr. Smolenyak has been recognized as an essential educator by his peers and has been invited to lecture throughout North Carolina, South Carolina, and Virginia.
Dr. Smolenyak's wife, Heather, is originally from Elizabeth City. Their family has always dreamed of returning home to northeastern North Carolina. When Dr. Smolenyak is not visiting patients, he enjoys spending his free time with his wife, Heather, and their daughter, Madelyn. They enjoy their time visiting the Outer Banks and some time on the water, taking in all that the Albemarle Area has to offer.
Dr. Smolenyak's hobbies include classic and muscle cars, visiting antique stores, and cheering for the Carolina Hurricanes. He is looking forward to continuing to provide quality eye care to the residents of northeastern North Carolina.
Location served: Edenton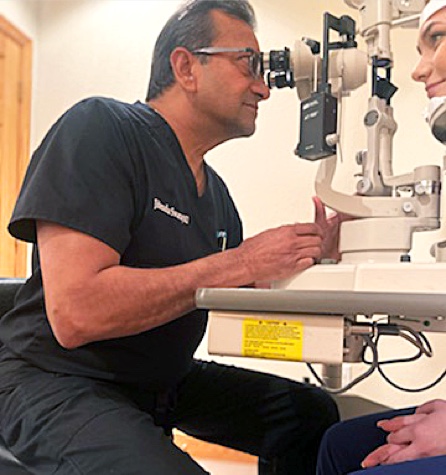 Albemarle Clinical Trials
At Albemarle Eye Center, our research department continues to take part in numerous FDA-monitored clinical trials.
We're committed to improving ocular health, which is why we're always on the search for new treatment options, medications, and medical devices that can benefit our patients.
Check us out on Facebook
[facebook-feed]


We are a proud partner of US Eye, a leading group of patient-centric, vertically integrated multi-specialty physician practices providing patients with care in ophthalmology, optometry, dermatology, audiology and cosmetic facial surgery.