The Leaders
in Cataract Surgery
Cataracts can be a struggle to deal with, and if you are looking for treatment and an experienced team of cataract experts, Albemarle Eye Center has you covered.
Our team of ophthalmologists has an extensive background in cataract procedures and a passion for restoring the clarity and quality you need to maximize your vision. If cataracts are interfering with your vision, contact our advanced laser and cataract center today for a consultation.
What Are Cataracts?
A cataract is a clouding of your eye's normally clear lens. As you get older, the proteins in your lens can break down and cause things to look blurry, hazy, or less colorful. This clouding of the lens can keep light and images from reaching your retina.
Cataracts can develop slowly and not disturb your eyesight early on. But with time, cataracts can eventually start interfering with your day-to-day vision. Cataracts can be the reason sharp images become blurred and appear discolored.
Your risks of developing cataracts can increase if you smoke, have diabetes, or have an eye injury. Cataract surgery is a great option when your glasses no longer seem to work for you and even a change in prescription does not help.
Exploring LenSx®
Laser Cataract Removal
If non-surgical treatments such as anti-glare glasses, lamps, or magnifying lenses do not help with cataracts, surgery is the only way to treat them. There are no medications, dietary supplements, or exercise that have been proven to prevent or cure cataracts. Laser cataract surgery is an outpatient procedure and usually requires only a few hours of your time from start to finish.
Laser cataract surgery utilizes a device that combines computer-assisted analysis, measurements, and laser technologies to deliver the best possible results.
Our experienced team can usually perform the LenSx® procedure in 6 to 8 minutes at our laser cataract surgery center.
During the procedure, an incision is made with The LenSx® femtosecond laser rather than a physical blade. The doctor uses the computer-assisted laser system to provide a precise circular opening. After the circular opening is made, the LenSx® system aids the doctor in lens fragmentation. Following lens fragmentation, the cataract is removed, and an IOL (intraocular lens) will be placed into your eye.
The lens implant replaces your natural lens, and the incision will seal itself. The recovery time following cataract surgery is quick and relatively easy—most of our patients notice improved vision within the first 24 hours.
Artificial Lens Technology at Albemarle Eye Center
During cataract surgery, your surgeon will remove the cloudy natural lens from your eye. Following removal of the natural lens, in most cases, a permanent intraocular lens (IOL) implant will replace the natural lens to restore focusing power. Albemarle Eye Center offers various types of IOL implants for cataract surgery. Your doctor will discuss which lens will be the best fit for you.
Traditional Monofocal Lens
Traditional monofocal lenses are the most common lens used with cataract surgery. It has one focusing distance and is set up to focus for up close, medium-range, or distance vision.
Astigmatism Correct Lens (Toric Lens)
Toric lenses are a special monofocal lens specifically designed to treat patients with astigmatism. The design of the toric lens makes it possible to reduce or eliminate astigmatism and remove your need for glasses at a distance.
Presbyopia Correcting Lens (Multifocal Lens)
This type of advanced intraocular lens uses multiple prescriptions to help you see clearly at various ranges. Multifocal lenses split light at different points in the lens, so you can achieve clear vision whether reading a book or watching a big theater screen.
Clear Up Your Vision
Many people deal with cataracts daily. At Albemarle Eye Center, we want to help you regain clear vision. Find out how our team can help treat your cataracts by booking your appointment today.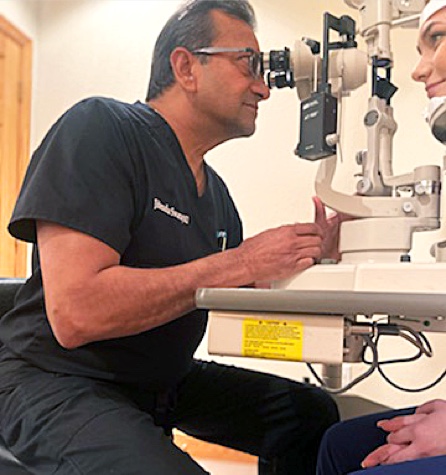 Albemarle Clinical Trials
At Albemarle Eye Center, our research department continues to take part in numerous FDA-monitored clinical trials.
Our advanced eye care center is committed to improving ocular health, which is why we're always on the search for new treatment options, medications, and medical devices that can benefit our patients
Check us out on Facebook
[facebook-feed]


We are a proud partner of US Eye, a leading group of patient-centric, vertically We are a proud partner of US Eye, a leading group of patient-centric, vertically integrated multi-specialty physician practices providing patients services in ophthalmology, optometry, dermatology, audiology, and cosmetic facial surgery at our center for advanced eye care.multi-specialty physician practices providing patients with care in ophthalmology, optometry, dermatology, audiology and cosmetic facial surgery.