Experience Clear Vision
If you suffer from a refractive error like myopia, hyperopia, or astigmatism, you probably rely on contact lenses or glasses to see clearly. While eyewear is a great solution for some people, you might be wondering if there's an alternative option to improve your vision.
At Albemarle Eye Center, we offer LASIK vision correction for patients looking for long-term vision improvement. With LASIK, you can experience better vision while reducing or even completely eliminating your dependence on eyewear.
All you have to do is book a consultation, and we can help you find out what laser eye surgery can do for you and your vision.
What is LASIK Vision Correction?
LASIK is a commonly performed eye surgery that uses a laser to correct refractive errors such as nearsightedness, farsightedness, or astigmatism.
The advancements in technology have made LASIK surgery an extremely popular and highly successful alternative to wearing glasses or contacts. In fact, more than 95% of LASIK participants were satisfied with their vision correction surgery.
The LASIK Procedure
Explained
With LASIK laser vision correction, a thin flap in the cornea is created using either a microkeratome blade or a femtosecond laser. The surgeon folds back the flap, then removes an exact amount of corneal tissue underneath using an excimer laser. The flap is then placed back to its original position, covering the area where the laser was applied. By reshaping the cornea, LASIK can combat refractive errors, helping you see more clearly.
What Is Photorefractive
Keratectomy?
Photorefractive keratectomy (PRK) is an alternative type of laser eye surgery. PRK improves vision by correcting refractive errors in the eye.
Examples of refractive errors include:
With PRK, your surgeon will remove and discard the cornea's outer epithelial layer, leaving the eye exposed, before reshaping the cornea. This epithelial layer then regenerates and grows back over time.
Both PRK and LASIK laser treatment for eyes work by reshaping the cornea—and success rates are similar for both procedures. The decision comes down to what your doctor recommends for your eyes.
The differences between PRK and LASIK are in eligibility and recovery time. LASIK surgery may not be suitable for people with very poor vision or thin corneas. Recovery and vision stabilization tends to be slower with PRK when compared to LASIK, along with more discomfort and potential corneal haze.
Your doctor can determine the best option for your eyes upon your consultation.
Book Your Consultation
If you are considering LASIK eye surgery, our specialist, Dr. Jitendra Swarup will examine your eyes and review your history to determine whether or not you're a good candidate for laser eye surgery. Once we know whether laser eye surgery will work for you, we can determine what type of vision correction you need and get you booked in for an appointment.
Do you have any questions or concerns about LASIK laser eye surgery? Please contact our team.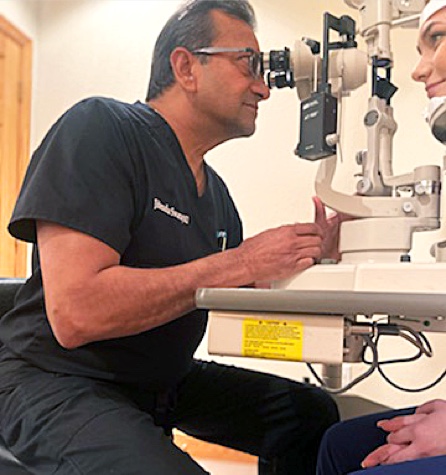 Albemarle Clinical Trials
At Albemarle Eye Center, our research department continues to take part in numerous FDA-monitored clinical trials.
Our advanced eye care center is committed to improving ocular health, which is why we're always on the search for new treatment options, medications, and medical devices that can benefit our patients
Check us out on Facebook
[facebook-feed]


We are a proud partner of US Eye, a leading group of patient-centric, vertically We are a proud partner of US Eye, a leading group of patient-centric, vertically integrated multi-specialty physician practices providing patients services in ophthalmology, optometry, dermatology, audiology, and cosmetic facial surgery at our center for advanced eye care.multi-specialty physician practices providing patients with care in ophthalmology, optometry, dermatology, audiology and cosmetic facial surgery.