Attention to Detail
Is the face looking back at you in the mirror not the one you remember? Is your appearance everything you desire? Are you looking tired or stressed? Our faces are the one thing we have that remain uncovered for all to see everyday. A face is the most important aspect of appearance and attraction. A face makes a first impression. So why not give yourself that little extra something to make you look as young as you feel?
At Albemarle Eye Center, we recognize your desire to work on your appearance and want to give you an extra shot of confidence. Our dedicated team is proud to offer effective, FDA-approved anti-aging and skin rejuvenating treatments.
Total attention to detail begins with your consultation, and we are committed to your follow-up care. Book your appointment with us today to explore the world of facial cosmetic surgery and recapture your youth.
What Is Facial Cosmetic Surgery?
After years of squinting, laughing, frowning, smoking, and stressing, the skin around your eyes and on your forehead can develop deep lines and wrinkles. These lines are normal with aging and are called expression lines.
Expression lines can be challenging to treat, but with the advances in cosmetic surgery technology, Albemarle Eye Center is able to provide treatment and deliver the best possible results to our patients.
The providers at Albemarle Eye center are experienced in performing facial cosmetic procedures. Cosmetic procedures are available at the following locations: Elizabeth City, Washington, Kinston, and Kitty Hawk.
Types of Facial Cosmetic Procedures
Facial cosmetic surgery includes a variety of procedures and treatments. Whether you are struggling with drooping eyelids or want to tighten up wrinkles, our team has you covered.
We offer the full SkinMedica line of skin products to help your skin recover from sun damage and the effects of aging. Albemarle Eye Center also offers medical-grade facial rejuvenation peels that can enhance your appearance by reducing acne scarring, sun-damaged skin, age spots, and fine lines.
The first step is exploring what facial cosmetic procedures can benefit your aesthetic goals and are best for you.
Look & Feel Your Best
At Albemarle Eye Center, we want to help you look and feel your best through our wide array of cosmetic procedures. Achieving your ideal look is our mission, and you can expect great service at all our locations.
From blepharoplasty eyelid surgery to eyelid ptosis repair; botox cosmetic surgery to dermal fillers treatment, get in touch with us today to learn more about facial cosmetic surgery.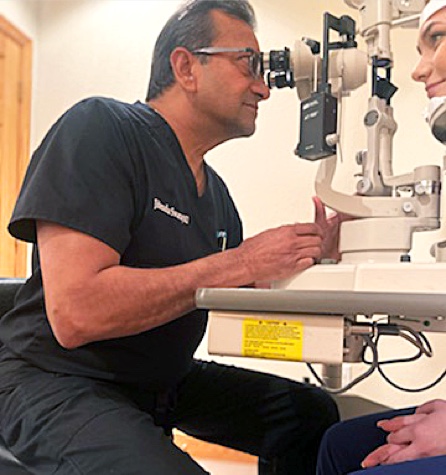 Albemarle Clinical Trials
At Albemarle Eye Center, our research department continues to take part in numerous FDA-monitored clinical trials.
Our advanced eye care center is committed to improving ocular health, which is why we're always on the search for new treatment options, medications, and medical devices that can benefit our patients
Check us out on Facebook
[facebook-feed]


We are a proud partner of US Eye, a leading group of patient-centric, vertically We are a proud partner of US Eye, a leading group of patient-centric, vertically integrated multi-specialty physician practices providing patients services in ophthalmology, optometry, dermatology, audiology, and cosmetic facial surgery at our center for advanced eye care.multi-specialty physician practices providing patients with care in ophthalmology, optometry, dermatology, audiology and cosmetic facial surgery.